A new sunroom is a blank canvas in your home.  In addition to adding valuable square footage, an all-season sunroom can serve most any purpose you desire.  While a blank canvas provides an exciting plane of possibility, it can also be daunting and overwhelming. Here are some sunroom decorating tips and ideas to help you furnish your custom Deck Creations sunroom.
Select a Purpose
Before you begin choosing furnishings and decor for your new space, carefully consider what practical purpose you would like your new sunroom to serve. Do you need additional seating space for serving meals or entertaining?  If so, choose to make your sunroom a dining space with an inviting table and comfortable seating.
Perhaps you are looking for a quiet retreat away from the hustle and bustle to read or relax.  If this sounds more like you, select comfortable chaise lounges, sofas or arm chairs.  Pinterest and magazines are full of inspiring sunroom ideas and pictures, but those ideas will not help you if the result is a space that does not meet your daily needs.  Remember that this is your home, not a catalog.  Make it lovely, but be sure to make it useful, as well.
A second consideration is who will be using your new sunroom with you.  If only adults live in your home, your options are only limited by your taste and budget.  However, if you will be sharing your space with lively, snack-toting children or muddy-pawed pets, choose fabrics and finishes that repel spills or that can be easily washed.
Choose Your Furniture
Now that you have established your practical needs, it's time to start choosing beautiful and useful sunroom furniture.  Sunrooms naturally lend themselves to materials and textures that reflect the outdoors: rattan, wicker, teak and seagrass are all great options.  While traditional upholstered furniture is perfectly safe in a sunroom, furniture that works indoors and outdoors may stand up better to intense sunlight often found in sunrooms.  Indoor/outdoor furniture has come a long way from the vinyl strap choices from decades past.  Many companies now make beautiful outdoor furniture lines that rivals indoor furniture in style and comfort.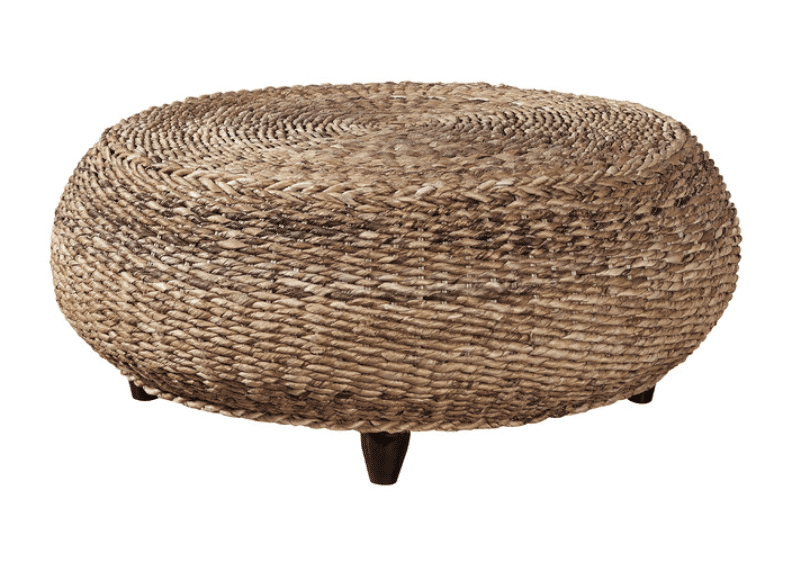 This seagrass ottoman is a beautiful and practical piece that may provide both comfort and a place for a glass of iced tea.  Choose pieces that are comfortable but beware of selecting pieces that are too large for your space.  A sunroom should feel airy and open, not cramped and cluttered.  Simplicity is key.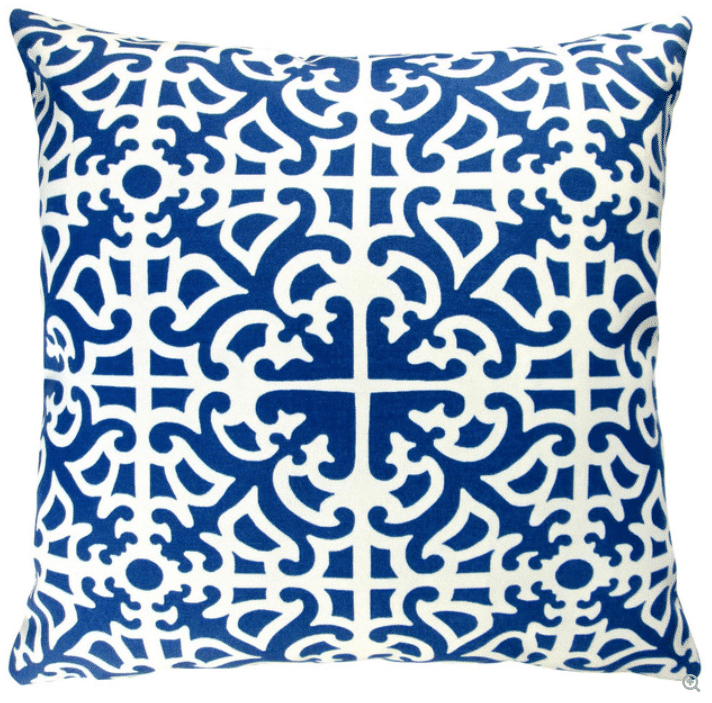 Choice of fabrics in the design of your new space should also consider the conditions of a sunroom.  If your room is east or west facing with few shade trees around, you may decide that cushions and pillows made from canvas awning-type fabric are appropriate due to the fading intense sunlight can cause on traditional fabric.
While the structural portion of outdoor furniture is generally color neutral, cushions and throw pillows designed to fit these pieces come in a myriad of colors and patterns.  Don't be afraid to add to pops of bright color to your sunroom.  These splashes can go a long way in livening up a room, especially during the gray and dreary winter months when our senses crave stimulation.  These throw pillow covers are bright and made of an easy to clean polyester fabric.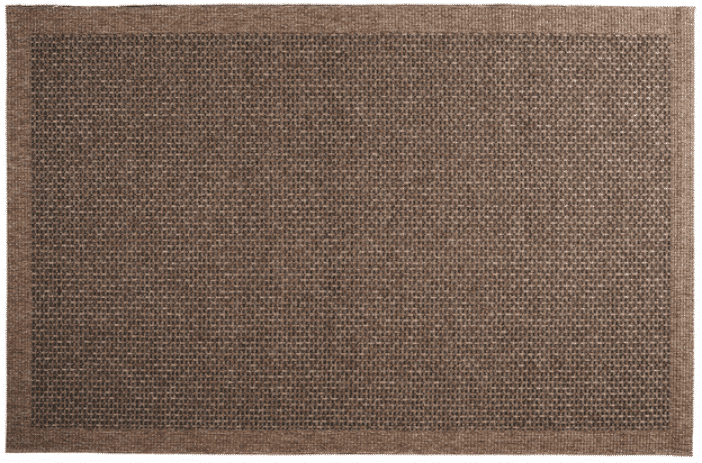 Also, don't forget a rug and curtains.  If appropriate for your lifestyle, a rug is an essential element in a sunroom.  Again, a woven seagrass or soft cotton rag rug reflects the casual, simplistic style of a sunroom.  Simple cotton curtains or sheers or seagrass or bamboo window shades provide necessary privacy and shade from bright sunlight without detracting from the relaxed, nature-inspired space you are creating.
Add Accessories
Once you have furniture in place, it's time to choose a few accessories to warm up and personalize your room.  Live or artificial potted plants are well suited to a sunroom.  Dwarf citrus trees or jade trees are good choices for sunroom decorating as their natural beauty and air-cleaning qualities are appealing.  For easy to grow potted plants, check out this article from NBC's Today Show. Don't have much of a green thumb?  Artificial plants have evolved greatly over the past several years, and many excellent and realistic looking options are available at home improvement and gardening stores.  In addition to live or artificial plants, lighting provides opportunities to express your personal style.
Peruse your local home improvement store for modern, industrial, farmhouse, vintage or Craftsman inspired options.  Ceiling fans with or without lights can keep your room comfortable by circulating air in both warm and cool months.  For a touch of whimsy, consider hanging industrial style, Edison bulb string lights around the perimeter of your room.  Their light is warm and soothing, providing instant ambiance to your space.
There are many factors to consider when styling a sunroom.  Everyone wants an impressive and inviting space in which to welcome loved ones.  A sunroom can serve any number of purposes in your home, so be honest with yourself about your lifestyle and needs before you begin the sunroom decorating process.  With a little time and thought, you will be well on your well to a hospitable, nature-inspired space.
* To earn 5% off the purchase of items listed in this article or any other product from Houzz, use code 3C595 at checkout on Houzz.com.
Deck Creations, A Voice You Can Trust
With over 50 years of experience in the construction industry, Deck Creations has become a leading expert in sunroom construction in the greater Richmond area. Our sunroom builders and contractors have worked with numerous individuals and families from Charlottesville to Williamsburg to create jaw-dropping designs and beautiful rooms across Virginia.
Once the construction is complete, we hope to help you design your new space to get the most comfort and functionality out of your new paradise. If you're interested in building a new sunroom, contact the outdoor living designers at Deck Creations today!